District / County Statistics
DISCOS - District and County Statistics - is prepared, published and electronically distributed annually by the Budget Management Section of the Texas Department of Transportation's Finance Division. This publication provides selected transportation-related statistics for each of the 254 counties and 25 TxDOT districts within the state.
IMPORTANT NOTE:
The district and county data in DISCOS, along with certain statistics that are not broken down at a county level, are available for download in a Microsoft Excel workbook and in PDF format.
DISCOS reflects historical (FY 2023) information only. No current or future year data is contained in DISCOS.
* Certified Data provided for On-System Daily Vehicle Miles, Centerline Miles and Lane Miles are based on calendar year 2022, provided by TPP-Data Management. These mileage statistics are On-System only (under the jurisdiction of TxDOT).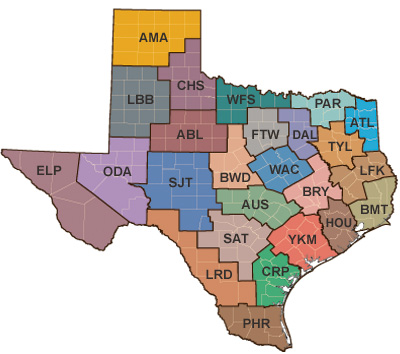 Locate a District by County: